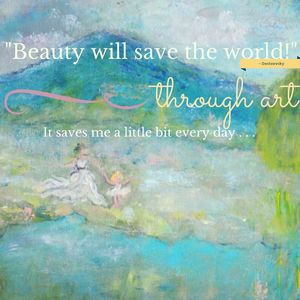 Painting with Prayers Art Class
Deby Dearman gives you permission to play again . . . to escape the chaos of this world and recall the joy of sitting down with a new box of crayons and manila paper; to use your fingers and paper towels to make messes, and then with a few simple techniques, transform your messes into masterpieces.
This class takes the fear out of painting and allows you the freedom to explore, take risks and have some good ole fun! 
We begin class by lighting a candle, praying a prayer, then we enter into the world of creativity where there are no limits. 
 
Class Info:
Feel free to contact me if you have questions or need more info: debydearman@mac.com
The art room is on the 2nd floor of the Westhaven Resident's Club, 401 Cheltenham, Franklin, TN. 
 (615) 791-6740 to reach the Resident's  Club front desk.
When you enter the clubhouse - walk past the front desk and staircase.
Turn right to go down the hall.
The elevator will be immediately on your right. Take elevator to the 2nd floor. When you exit the elevator go to your left.
The art room is at the end of the hall on your left.

We meet from 10:00 to 12:30.

We go to lunch each week at Oscar's Taco Shop, just down the street. It's a great time to get to know each other better. Please consider joining us.
Painting with Prayers 6 Week Session
Pay for block of 6 classes and get one class FREE!
Read more…
Painting with Prayers Class
Supply List
Table easel - can get one at Hobby Lobby or Michaels - about $8.00 - some of us are painting flat on the table and not using an easel at all
Water bottle (so you'll have a drink on hand)
Apron or Paint Shirt
Palette or Palette Paper
Canvas to paint on (small or medium) might bring several. 8x10 & 9x12
Metal palette knives (2 or 3 sizes) I like the kind that dip down from the handle.
 Paint brushes (2 or 3, small to medium) Flats, filberts or brights.
You'll also want a very tiny liner brush for painting small detail.
Acrylic paints  -  *Liquitex Heavy Body Paints that can be found at Michaels and Hobby Lobby - suggestions below:
RED - cadmium red and alizarin crimson
BLUE -  ultramarine blue
YELLOW - cadmium yellow light
TITANIUM WHITE
Ivory Black 
I look forward to seeing you in class!
Please message me to let me know you're coming: debydearman@mac.com