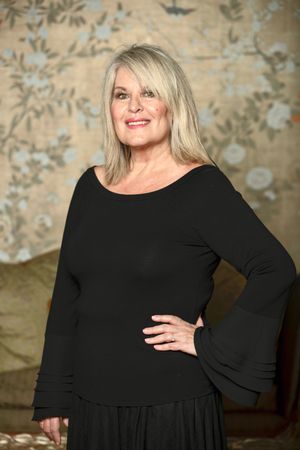 Deby was born into a military family and easily stepped into the role of "army brat."  As a little country girl from Texas, Deby explored the world and spent more time on foreign soil than in the U.S. Her playground was the famous Piazza Bra, in Verona, Italy. Her favorite spot was the balcony of Romeo and Juliet. Stirred by the richness of her surroundings, this budding artist developed a love for all things beautiful.

The Love of Her Life  With not one shy bone in her body, Deby talked her way into many hearts. It was a natural for her to major in speech and drama in college and to perform in plays, sing in choirs, and dance her way to the stage, where she met the love of her life, Kirk Dearman. On their first date, he performed the entire "Wizard of Oz" - every character!  They both decided to go "Somewhere Over the Rainbow"... and they've been making beautiful music ever since!
Europe Once Again 
Deby was invited to model for the prestigious Kim Dawson Modeling Agency in Dallas, TX, where she appeared in major retail catalogs, advertisements and fashion shows. But she left that career to live in Europe once again, this time with her hubby and two daughters. Together with their best friends, Jim & Anne Mills, the Dearmans co-founded a performing arts company that still flourishes today as Creative Arts Europe, and is based in Brussels, Belgium. For seven years, the Dearmans sang and danced their way through Europe with a troupe of artists. Kirk and Deby and their two daughters - including a German puppy and a Belgian kitty - returned to the States and settled in Music City, where they pursued their songwriting.
Discovered A Gift 
While touring Europe with their performing arts company, Deby picked up a camera and discovered a talent for capturing just the right moment of magic. Her photographs quickly moved to the forefront, as there was an immediate demand for her photography. She began photographing children, artists for CD covers, publicity and sacred spaces across Europe. Her images have now been published in books, magazines, magazine covers and have graced the walls of galleries and prestigious homes across Europe and the U.S.
Always Becoming
In recent years, Deby found herself struggling with vocal problems. Diagnosed with a vocal tremor, she realized that her main gifts of singing and speaking would be on hold for awhile. She quickly found a new voice when she picked up paints and a palette knife. After one year of art classes, she had a successful art show, selling 30 of her paintings. This new door of opportunity has been a door of hope for Deby and reflects her life motto of  "always becoming!" You can view her art by clicking Deby's Art Gallery in our menu.