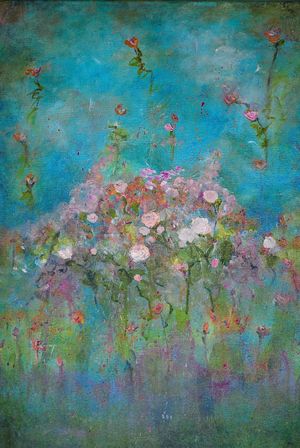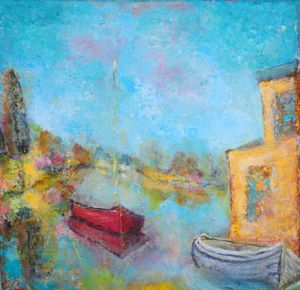 Deby Dearman: From Juliet's Balcony to a Moonflower Miracle 
Artist Deby Dearman finds her inspiration through both joy and pain. She draws on happy memories of living in Europe as a child as well as the painful memories of losing her most beloved creative expression, her voice, as an adult. Her creative journey has taken her from the vibrant streets of Verona, Italy to despairing nights in her Franklin, Tennessee art studio. 
In this interview conducted by freelance writer Jeff Slaughter, Deby discusses her journey from Juliet's balcony to her moonflower miracle. 
Jeff: What are your strongest memories about growing up in Europe? 
Deby: Immediately I think of Juliet's balcony. Believe it or not, it was just a short walk from our apartment in Verona, Italy. We walked to the balcony often and as a little girl my visions of a beautiful princess-like maiden and her love bantering back and forth were rich and full of color. I've been a romantic ever since . . . any wonder? 
Jeff: When you think of Europe today, what are the sights, sounds and smells that come to mind? 
Deby: I see cobblestone streets and flower vendors. I hear church bells echoing through villages and smell the delights from the local bakery and the intoxicating whiff of coffee from the local shop. Truth is . . . I come alive when I'm in Europe. Something within me wakes up. My senses are heightened. 
Jeff: How did growing up in Europe affect your creativity? How does it influence your painting today? 
Deby: I became aware of beautiful architecture early on. I remember the sights, sounds and experiences . . . . I think my imagination was enlarged. I remember standing in front of a shoe store in Verona, Italy. I must've been 6 yrs old and there were ballet slippers in the window. In my mind, I was a ballerina! 
We moved out of the city into an old Italian farm house. My bedroom window overlooked a vineyard and the huge wooden troughs they used to keep the grapes and stomp them.  My brother and I became friends with the farmers children. He let us all crawl into the trough and stomp grapes. But when they dipped their cup into the juice and offered us a drink  . . . I ran home! 
I've painted those memories . . . Juliette's balcony, the farmhouse. What I love most is the sense of old weathered buildings that hold stories. No wonder I enjoy painting peeling plaster and old farmhouses. 
Jeff: What informs your choices of color when you paint today? 
Deby: I have discovered that most of the paintings I love have what I call delicious color; color that looks good enough to eat. It absolutely makes me crazy happy. In my first few years of painting I used too much color. But it made me happy and was part of my learning experience. Now I'm choosing to soften my color choices and use color more wisely. I think it has helped my paintings look more professional. 
Jeff: Why do you enjoy using textures in your work? 
Deby: My first attempt at painting as an adult was with a brush and honestly, I just made a mess. But in my first real art class the instructor introduced me to the palette knife. All of a sudden everything came together for me and I fell in love with the sensation of spreading paint on a canvas. It was much like frosting a cake! I was taught to use lots of paint and create layers. This just exploded for me when I realized that spreading paint over previous layers allowed me to create that old world look of peeling paint and crumbling plaster. I was hooked! 
Jeff: What inspires you as you look at a blank canvas? 
Deby: That's difficult, because I don't always feel inspired. I've even painted an entire painting only to scrape the paint off and start over; but I had to do something to prime the pump and get started. When I am inspired, it's usually because I'm either painting a scene from a country that I want to visit, or some place that I've already been and loved. 
Jeff: You lost your singing voice several years ago due to a vocal tremor. How have your feelings about that loss evolved over the years? And how has painting helped you cope with that loss? 
Deby: While grieving the loss of my voice, I had the impression that some gifts only blossom in the dark. I was indeed in a dark night. So I started painting Moonflowers. I created an entire series. It was healing to me and amazingly brought healing to others who where going through difficult seasons. I called it painting with tears, because I literally wept at the canvas, wiped my tears and used them in the painting. I should've charged more for those paintings . . . they hold my DNA! :-) 
My husband and I even wrote a song about the 'dark night of my soul' called 'Moonflower Miracle'.  And even though I can't sing the song, I can paint it. 
Every time I pick up a palette knife, I live a little bit more of that miracle.  And I'm thankful that during my darkest night a new gift blossomed: a gift that inspires me and even helps others find their own moonlight miracle.